Smart Evaporator
Evaporation Re-Thought

In Vial Concentration
The Spiral Plugs come in various sizes for compatibility with many different sample tubes, flasks, and vials.
Coupled with a quick release, the Spiral Plugs are easily exchangeable between different sizes.

Bump Free Technology
The novel Spiral Plug technology generates a helical flow of air or inert gas over the surface of your solvent, thereby increasing the surface area. Since the vial isn't under high vacuum, there is no risk of bumping or splashing.

DMSO & DMF Concentrator
The Smart Evaporator enables efficient evaporation of high boiling point solvents. With the inert gas purging feature (ex. nitrogen), it's great for drying down solvents such as DMSO, DMF and water.
(inert gas recommended).
"It is nice to be able to evaporate samples without having to constantly monitor it."
Professor Richard T. Taylor
"The Smart Evaporator is effective at concentrating and drying samples in vials and centrifuge tubes."
Professor Takuya Kumamoto
"The Smart Evaporator allows me to concentrate my samples into vials in less time with no mess—even DMSO and DMF. Very convenient!"
"Everybody in the lab likes to use it. It saves us a lot of time!"
"The Smart Evaporator is perfect for small samples. I have found it especially useful for recovering material from d6-DMSO NMR samples."
Dr. Tioga Martin
"I appreciate the Smart Evaporator's ability to concentrate directly in my 2 mL sample vials bump free."
Takeo Kurata
"The Smart Evaporator has been useful for evaporating NMP. It is small and space-saving, so we can put it in a hot cell. I'm fully satisfied with the evaporation speed."
Mr. Hiroshi Yamaguchi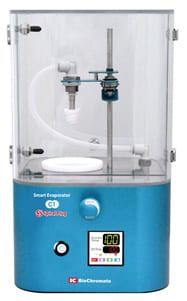 Smart Evaporator C1
Single Channel Evaporator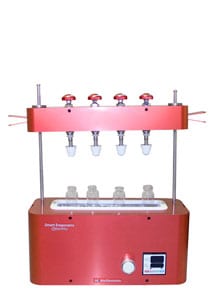 Smart Evaporator K4
Open Type 4 Channel Evaporator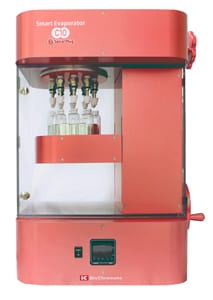 Smart Evaporator C10
10 Channel Evaporator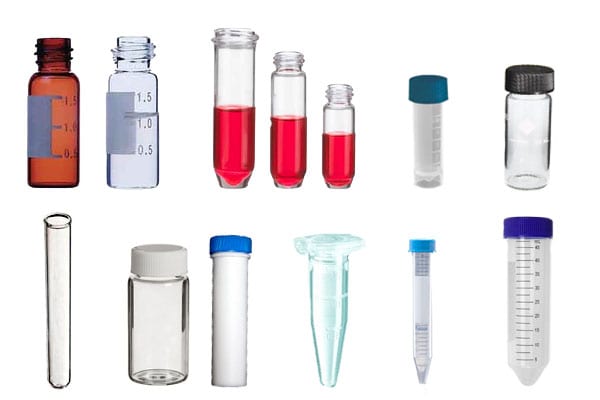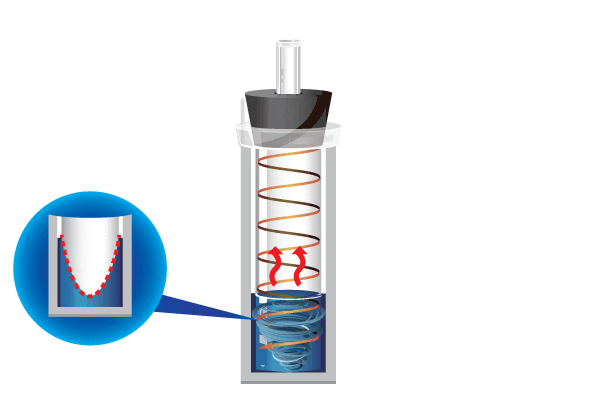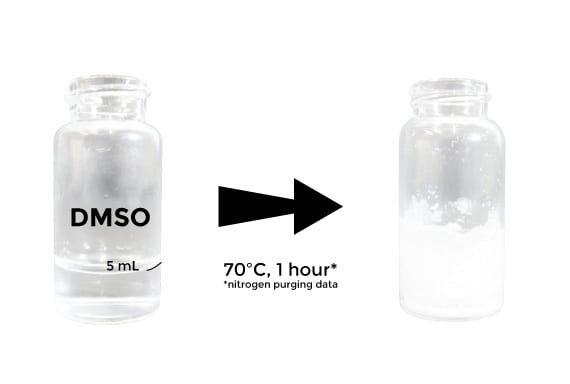 Fast and Effective Evaporation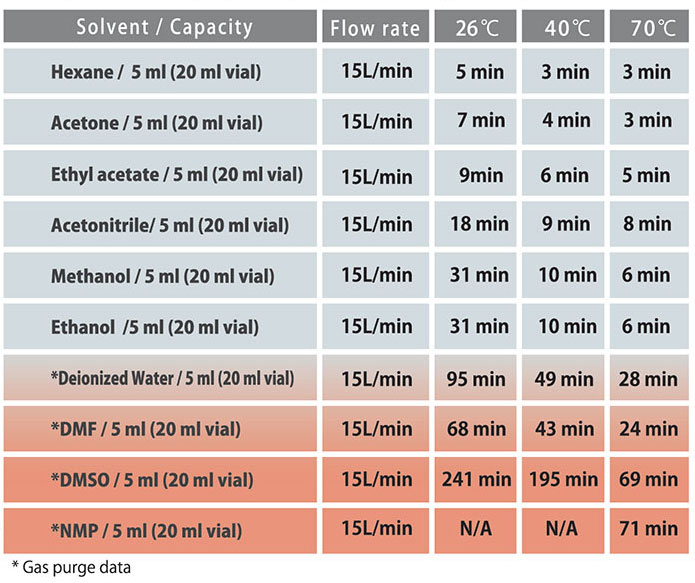 Using the Smart Evaporator, even high-boiling point solvents can be evaporated quickly and effectively; Remove DMSO in under 70 minutes and DMF in just 24 minutes*.
*5mL in a 20mL vial at 70°C with nitrogen purging at 15L / minute flow-rate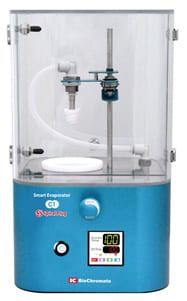 Smart Evaporator C1
Vial of your choice
Easy to change vial size
Room temperature to 100

°

C
Nitrogen Purging Feature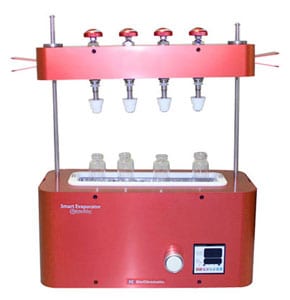 Smart Evaporator K4
Up to 4 vials at a time
Easy to change vial size

Aluminum beads for versatile compatibility

Room temperature to 100

°

C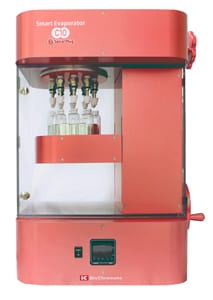 Smart Evaporator C10
Up to 10 vials at a time
Heat Carousel
Room temperature to 100

°

C
Nitrogen Purging Feature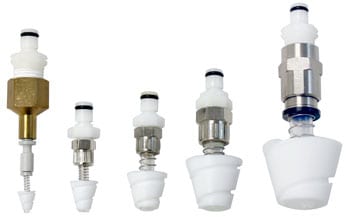 Spiral Plugs
Available in 5 sizes to fit most sample vials

(each sold separately)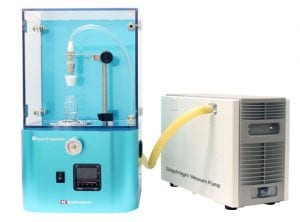 Vacuum Pump
Is required to operate the Smart Evaporator
(sold separately)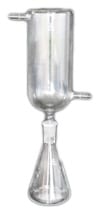 Cold Trap
Dewar style cold trap recommended to recapture solvent
(sold separately)
Publications
Sato, T., Ikeya, Y., Adachi, S. I., Yagasaki, K., Nihei, K. I., & Itoh, N. (2019). Extraction of strawberry leaves with supercritical carbon dioxide and entrainers: antioxidant capacity, total phenolic content, and inhibitory effect on uric acid production of the extract. Food and Bioproducts Processing.
Hanaoka, H., Ohshima, Y., Yamaguchi, A., Suzuki, H., Ishioka, N. S., Higuchi, T., … & Tsushima, Y. (2019). Novel 18F-labeled α-methyl-phenylalanine derivative with high tumor accumulation and ideal pharmacokinetics for tumor specific imaging. Molecular pharmaceutics.
Usuki, T. (2019). Usuki, Toyonobu. "PROCESS FOR PREPARING DEUTERATED DESMOSINE AND DERIVATIVES THEREOF." U.S. Patent Application No. 15/810,634
Matsuyama, T., Izumoto, Y., Ishii, K., Sakai, Y., & Yoshii, H. (2019). Development of Methods to Evaluate Several Levels of Uranium Concentrations in Drainage Water Using Total Reflection X-Ray Fluorescence Technique. Frontiers in Chemistry, 7.
Lorenz, L. M., Toomey, V. M., Lanzarotta, A. C., Flurer, R. A., & Falconer, T. M. (2019). Identification of the Designer Steroid Androsta‐3, 5‐diene‐7, 17‐dione in a Dietary Supplement. Drug Testing and Analysis.
Saga, Y., & Miyagi, K. (2018). Characterization of 3‐Acetyl Chlorophyll a and 3‐Acetyl Protochlorophyll a Accommodated in the B800 Binding Sites of Photosynthetic Light‐Harvesting Complex 2 in the Purple Photosynthetic Bacterium Rhodoblastus acidophilus. Photochemistry and photobiology, 94(4), 698-704.
Kato, E., Kubo, M., Okamoto, Y., Matsunaga, Y., Kyo, H., Suzuki, N., … & Fukuyama, Y. (2018). Safety Assessment of Bangle (Zingiber purpureum Rosc.) Rhizome Extract: Acute and Chronic Studies in Rats and Clinical Studies in Human. ACS Omega, 3(11), 15879-15889.
Sato, T., Fukuda, F., Nihei, K. I., & Itoh, N. (2017). Effect of temperature and pressure on the extraction of strawberry receptacles with a mixture of supercritical carbon dioxide and entrainers. The Journal of Supercritical Fluids, 130, 23-29.
Okano, G., Igarashi, S., Ohno, O., Yamamoto, Y., Saito, S., & Oka, Y. (2015). Determination of trace amounts of bismuth in steel by ICP-MS through a cascade-preconcentration and separation method. ISIJ International, 55(1), 332-334.
Matsuura, K., Ueno, G., & Fujita, S. (2015).Self-assembled artificial viral capsid decorated with gold nanoparticles. Polymer Journal, 47(2), 146-151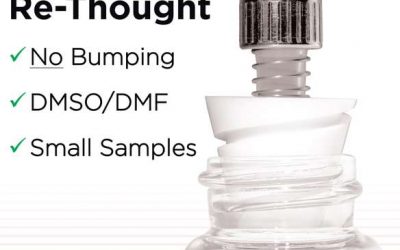 While at ACS in San Diego, take advantage of the opportunity to learn about Smart Evaporator to concentrate samples efficiently, improve recovery rates and accelerate your research.
read more