End of Year Sale! Take 20% Off Plate Seals. Discount has been applied to price. Expires 12/31.
Slit Seal, 96 well plate seal
Instant Self Closing Seal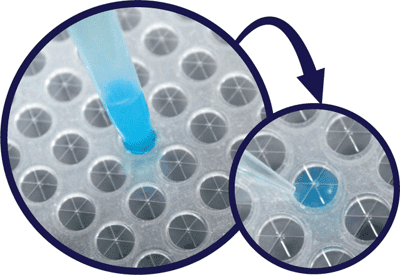 The Slit Seal is a resistant, instant self-closing 96-well plate seal.
The adhesive-free, pre-cut slits made of silicone and PET allows easy insertion and withdrawal of pipette tips and sampling needles without dragging. The Slit Seal's main purpose is to prevent solvent evaporation and cross-contamination. Some suggested applications are Automation, SPE, HPLC, LC/MS, and ADME.
Self-closes instantly
No cross-contamination between wells
Allows next day analysis
No adhesive on well spots
Pipette tips insert easily with less friction
Reduce solvent evaporation
Automation
SPE
HPLC and LC/MS
ADME
DNA Extraction
Automated Single Molecule Imaging
Cell Culture
BioChemical Assays
Incubation
Vortex
Size: 80 mm x 122 mm

(96-well format)

Material: PET, Silicone


Adhesive: Acrylic based (no adhesive over well spots)

Functional temperature range:

-80°C to +100°C

No PCR inhibition

Certified free of detectable mouse and human DNA (30 pg)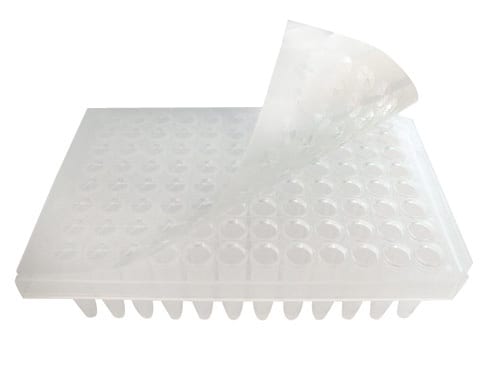 Data Analysis Sheet
Differences from Silicone Mats:
Pre-cut slits open easily, and PET layer reduces friction for very easy handling.
Lower cost than silicone mats.
Very Effective at Preventing Evaporation:
After 22 hours, 95% of 150 µl water will remain at 37°C
After 22 hours, 95% of 150 µl of Acetonitrile will remain at 4°C
Publications
Berg, T., Eliassen, E., Jørgenrud, B., Kabashi, S., Petukhov, A., & Bogstrand, S. T. (2018). Determination of phosphatidylethanol 16: 0/18: 1 in whole blood by 96‐well supported liquid extraction and UHPLC‐MS/MS. Journal of Clinical Laboratory Analysis, e22631.
Yasui, M., Hiroshima, M., Kozuka, J., Sako, Y., & Ueda, M. (2018).
Automated single-molecule imaging in living cells.
Nature Communications
,
9
(1), 3061.