I am happy to be able to concentrate precious samples in 2ml vials without any stresses.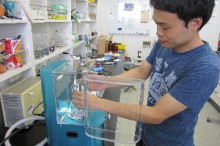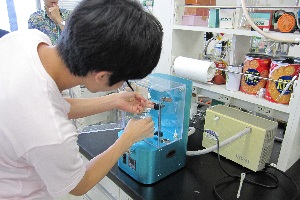 Research Interest Organic synthesis in Perfumary Chemistry, Petrochemistry.
(Researcher:Takeo Kurata. Meiji University, Science and Engineering Applied Chemistry.)
One of my research themes is the synthesis of flavors. I need to remove all solvents before analysis because residual solvents influence on results. I thought Smart Evaporator can remove all solvents.
I mainly used a rotary evaporator. When I have large volume of samples, I heated them for concentration. However, it had a bumping risk as samples got concentrated and closed to solid state. In addition, we had difficulty to remove residual solvents completely when using egg-plant flasks, which negatively influenced on the analytical process.
I understood that conventional concentration with rotary evaporators causes various problems. Do you have any other problems with rotary evaporators?
Yes, it is concentration for micro volume samples. It was tedious for me to connect and assemble small vials with joints and rotary evaporators. Although I tried other ways such as suction with vacuum pump, I had to risk the loss of precious samples. These things had stressed me.
I appreciate for the feature enabling me to use 2ml vials directly, mild concentration, and bumping free. I am going to use Smart Evaporator and rotary evaporator for each experiment and process.
Thank you for your feedback. Do you have anything else to ask me?
Yes, you can replace air with argon gas by connecting tubes and joints. What you need is to fill out the space inside cover with argon gas.
It feels a little awkward when fixing the Spiral Plug to a container. Also the joint between the tube and the plug is a little fragile (which had to be replaced in the past).
Summary
I have obtained similar feedbacks from organic chemists.  They seem to have difficulty to concentrate micro volume samples.  Especially when concentrating samples easy to get bumping, they use a rotary evaporator to scale down samples as a first step, then dry samples out mildly with nitrogen spraying.  If you and your colleagues have been stressed with sample loss during sample transfers, risk of sample dropping, please feel to ask our local distributor for the demonstration.
■Interested in what Smart Evaporator is? You can learn from here!