I no longer hesitate to use DMSO and, it reduced my work time!
In this issue, we interviewed Dr. Kei Muto, who conducts research on a wide range of topics related to molecular construction, with the basic propositions of "Building molecules," "Destroying molecules," and "Creating game-changing molecules".
(Interviewee: Associate Professor Kei Muto, Department of Applied Chemistry, Organic Synthesis Chemistry Research Laboratory, Junichiro Yamaguchi Laboratory, School of Advance Science and Engineering, Waseda University)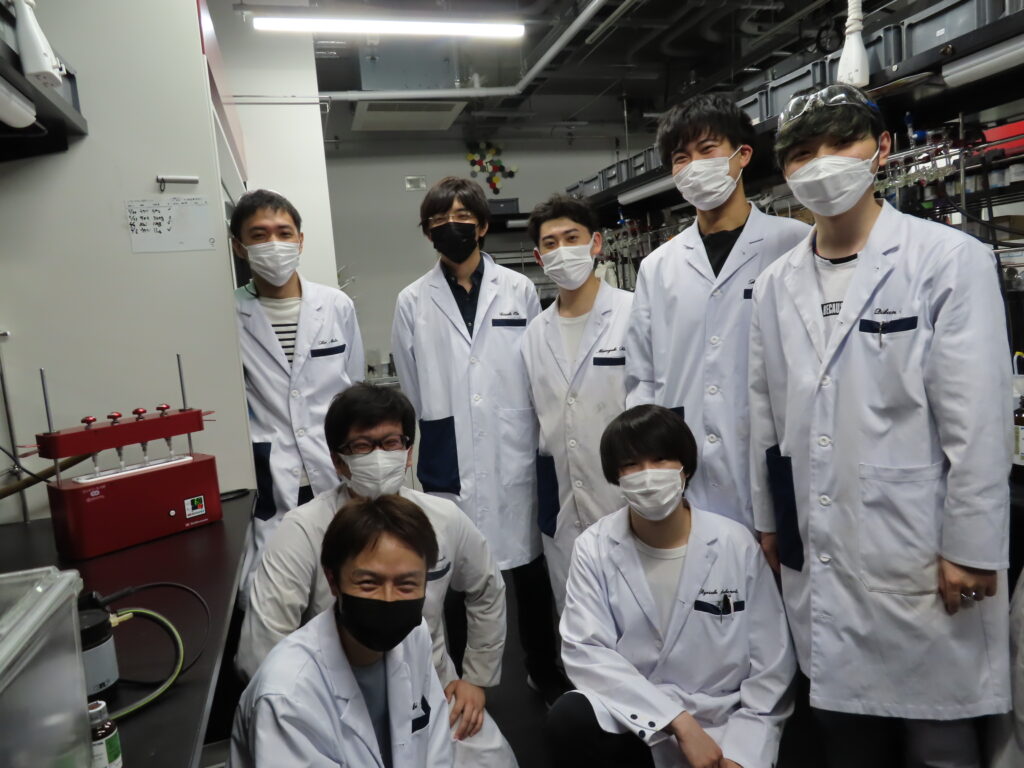 1) Building molecules
Aiming to develop catalysts and reactions that can forge new molecular entities at will.
2) Destroying molecules
Aiming to break stable carbon–carbon bonds in order to create new bonds, and we will strive to design and develop new, efficient catalysts to accelerate this process.
3) Creating game-changing molecules
Our ultimate goal is to build molecules with completely new structures and functions.
Until now, when concentrating solvents with high boiling points, such as DMSO or DMF, we have either heated them to 80°C in a rotary evaporator or removed them by liquid separation.  The rotary evaporator does not completely remove the solvent, and solvent may remain. In the liquid separating operation, the operation itself takes only 20-30 minutes, but when operating a water-soluble target compound, sometime the target compound can not be recovered from the aqueous layer.
┃What prompted you to install a Smart Evaporator? / Works after installation of Smart Evaporator
I knew about the Smart Evaporator because a professor in another laboratory at Nagoya University, where I used to work, was using it.  In 2018, our lab leader, Dr. Yamaguchi, saw an email from Biochromato Inc. telling us that the Smart Evaporator won the Science and Technology Award from the Minister of Education, Culture, Sports, Science and Technology, so I became more aware of the existence of the Smart Evaporator. And now we were able to introduce the "Smart Evaporator K4" in our lab at the right time.  Since introduction of Smart Evaporator, we have been using it not only to collect samples from NMR tubes after using high-boiling-point deuterated solvents, but also for our routine experiments to concentrate samples to be stored in vials.
(Reference movie of sample recovery after NMR, using a Smart Evaporator (YouTube movie))
≪ Experimental conditions on concentration work ≫
| | | | |
| --- | --- | --- | --- |
|   | Solvent name/solvent volume | : | DMSO, DMF, H2O, etc./0.50-2mL |
|   | Container type | : | volume: 2mL-20mL vial |
|   | Temperature setting | : | 50-60°C |
|   | How often used | : | Every day, someone is using it. |
|   | Time required | : | 1 to 2 hours on average /operation |
Also we could interview students in the lab about their experiments with the Smart Evaporator.
| | | |
| --- | --- | --- |
| | Student A: | "When 1 mL of DMSO in a vial was concentrated while heated to 70°C, it took only about 1 hour to evaporate." |
| | Student B: | "When I concentrated a sample with 1 mL of DMF in a test tube while heating to 60°C, evaporation was done while I was eating lunch (about one hour)." |
| | Student C: | "I like that I can use a variety of containers, and, as four samples can be set at one time so I can share it with other person, at same time." |
┃ What I felt using the Smart Evaporator
<Advantages>
The biggest advantage is that it enables the concentration of high-boiling point solvents, and it reduces hesitation or resistance to use DMSO or other high-boiling point solvents.  In addition, it is reassuring that it does not cause bumping.  If a bumping occurs, it would loss the sample and it takes time for recovery, and most importantly, we are left with a depressed feeling.  Another advantage is that the vials with the samples can be concentrated directly, saving the time previously wasted in excess experiment processes!
<Requests>
Our main use is concentrating high boiling point solvents, but sometimes on concentrating low boiling point solvents, I am concerned about the condensation that occurs.  This may have something to do with the fact that it is the rainy season, though.  I also wished the price was more lower.
Summary
Thank you very much, Dr. Muto, and students, for taking the time out of your busy schedule for the interview this time.  I was impressed by how accustomed everyone was to having their picture taken. Since I realized that this laboratory runs the famous "ChemStation," the largest chemistry portal site in Japan, so I imagined that they are accustomed to being interviewed.
We were also able to talk to members who are actually using the system at the same time. We were very pleased to hear comments such as, "It evaporated while I was eating lunch," suggesting the ease of use of the Smart Evaporator.  We apologize for the inconvenience caused by condensation when concentrating low-boiling-point solvents, which you mentioned as a point of concern.  It might be possible to reduce the condensation by increasing the heating temperature and air flow.
As for the price, we will do our best to raise the product's name recognition, increase the number of sales, and lower the price by mass production.  We think much more people will be interested in the Smart Evaporator by watching Dr. Muto's testimonial this time.  We hope that the Smart Evaporator K4, which can simultaneously concentrate four samples, will continue to be useful in your research.  We will continue to strive to meet your expectations.  We hope you will continue to love our products for future.
(Interviewer: Arisa Tsubokawa)
■Interested in what Smart Evaporator is? You can learn from here!