Denaturation no longer occurs during concentration of membrane filtered liquid sample!
In this issue, we interviewed Prof. Yamamura and Assistant Prof. Ding, who are engaged in the development and research of high-precision membrane filters.
(Interviewee: Professor Hiroshi Yamamura and Assistant Professor Qing Ding, Water Metabolic System Engineering Laboratory, Department of Interdisciplinary Human Science and Engineering, Chuo University)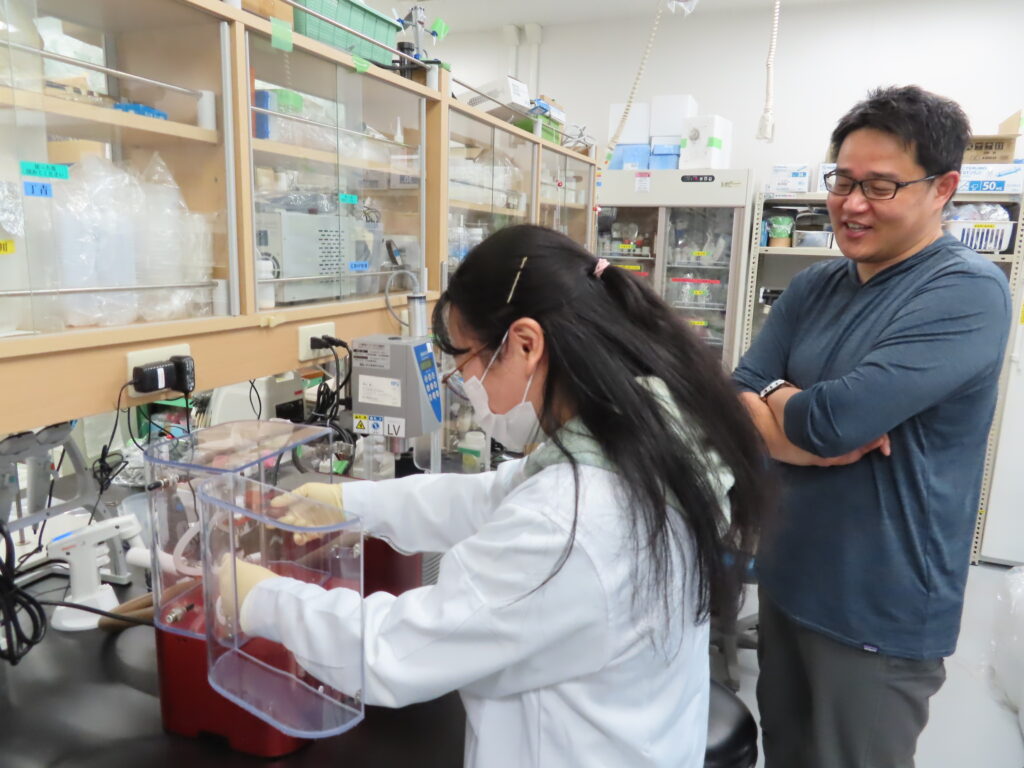 Research on water purification systems focusing on membranes
Technological development to solve membrane fouling (an unwanted process in which solutions and particles accumulate on membrane surfaces or membrane micropores)
Research on improving the value of sewage systems
We are researching Bacillus bacteria activated membrane separation activated sludge method, phosphorus adsorption porous membrane, and sludge treatment using anaerobic MBR.
We are focusing on biopolymers - a generic term for organic material with a molecular weight of 100,000 Da or more - existing in rivers and streams.
Since biopolymers are present in concentrations as low as a few ppb, it was necessary to concentrate the sample to determine the amount of biopolymer adsorbed on the surface of the water treatment membrane.
Until now, samples were concentrated using a freeze-dryer as a pretreatment for measurements; however, we felt that the denaturation of the samples by solidification (freezing) was a major problem. Also, the sample should not be allowed to dry out completely, as this will lead to sample denaturation. So we wanted to check the amount of liquid in the sample during concentration; however, on the freeze-dryer we could not check the volume of liquid and state of the sample. As for the working time, the process of concentrating 200 mL of sample (membrane filtrate) in an eggplant flask to 20 mL, it took as long as about 24 hours.
┃What we felt using a Smart Evaporator
I found out about Smart Evaporator when I saw it at an exhibition.  Then, I started to receive their newsletter, and also a distributor person brought a catalogue to me.  So I was interested and decided to install the Smart Evaporator C1.
<Advantages>
After introducing the Smart Evaporator, it became possible to concentrate samples in liquid form without denaturing them.  Since it is now possible to check the state of the sample during concentration, it is also possible to control the volume of liquid.  As the samples are now concentrated without denaturing, now they can be used for various types of analysis.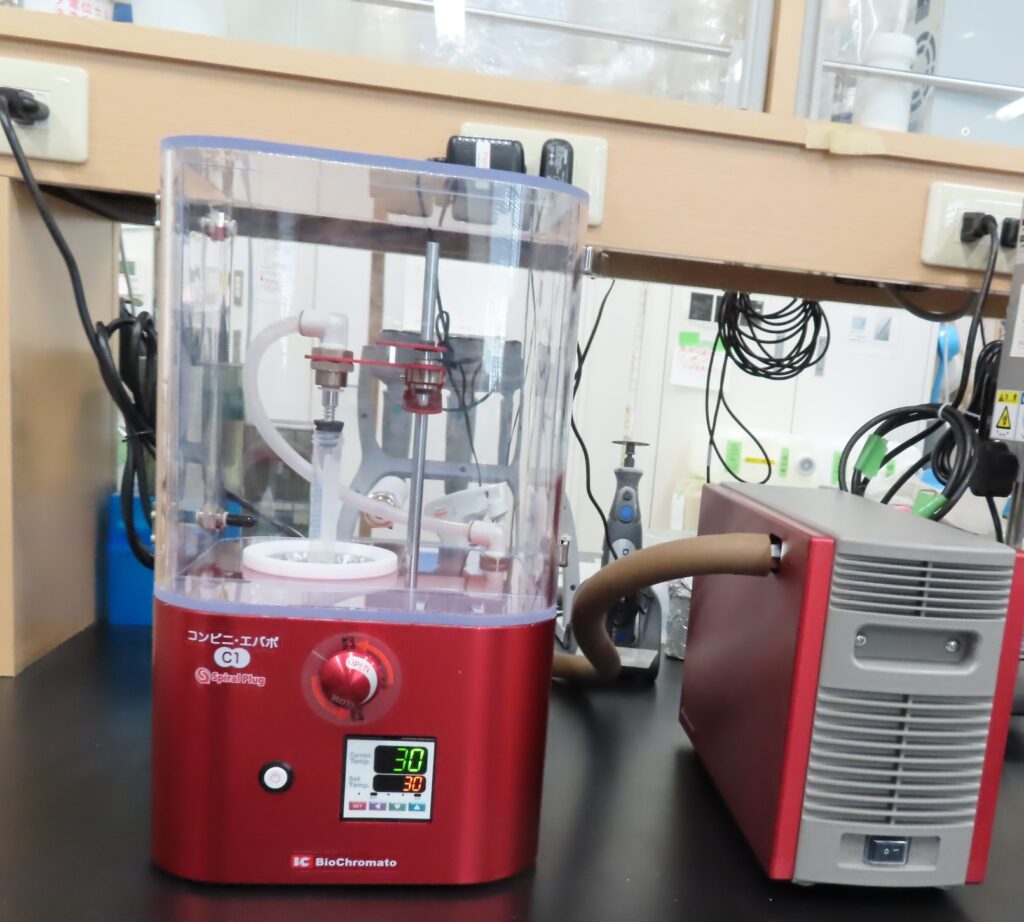 After the membrane filtrate sample is concentrated using the Smart Evaporator, adsorption experiments are conducted using the QCM method (quartz crystal microbalance method).  When concentrating the sample by Smart Evaporator, we work with a heating temperature of 30°C and with a low air flow.  If the sample is denatured, accurate quantitative analysis will not be possible, so although it is time-consuming, this concentration method is used to maintain the quality of the sample.
Since Smart Evaporator is easy to operate, it is expected to be well used in another research theme (research on improving the value of sewage systems) in the future.  If you do not want your samples denatured by freeze-drying process, Smart Evaporator is the way to go!
≪ Experimental conditions on concentration work ≫
Place of installation

:

experimental bench

Solvent name/solvent volume

:

Membrane filtrate solution/10mL

Container type

:

volume: 50mL centrifuge tube

Temperature setting

:

30°C

Frequency of concentration work

:

about three samples taken from membrane filtrate at a time

→ concentrate one sample per day

Working TimeWorking timeWorking time


: 

About 8 hours  *The air flow is very weak to maintain sample quality.
Since we would like to use it also at night, I think it would be safe to have a timer to automatically shut it off. It would also be better if there was a function to stop the machine automatically when the liquid volume of the sample reaches a certain level, in order to prevent the sample from completely drying out and solidifying.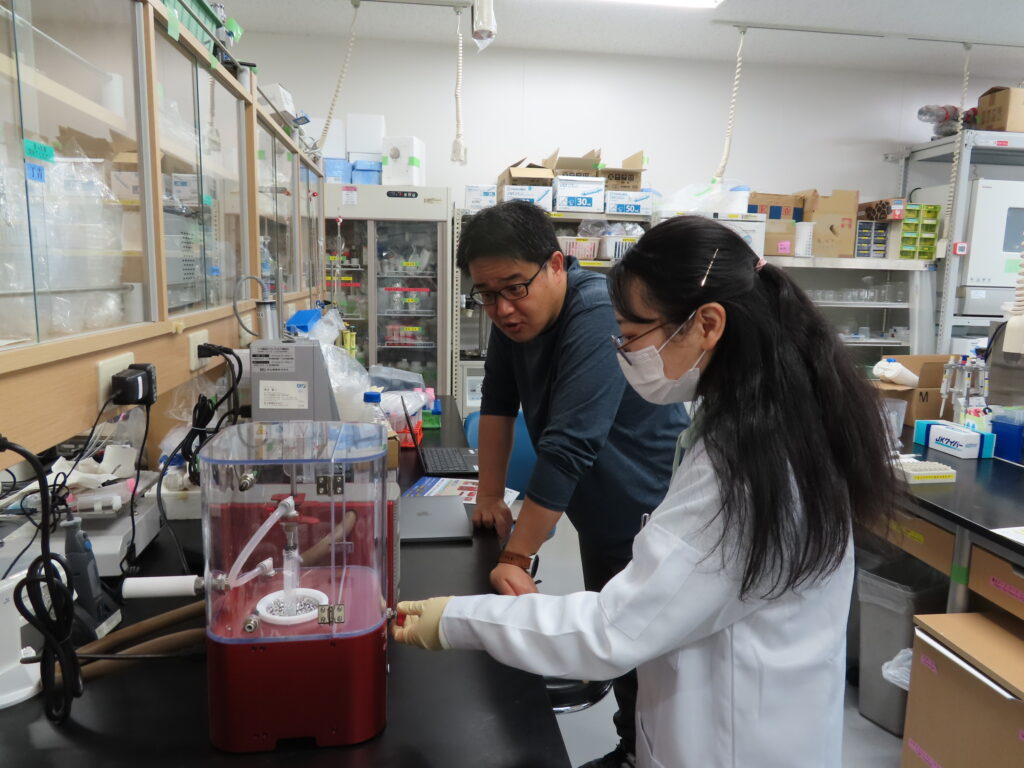 Summary
Thank you very much, Dr. Yamamura, Dr. Ding Qing, and students, for taking the time out of your busy schedule to be interviewed by Testimonial.  We had the opportunity to interview the lab members when they had only been using the Smart Evaporator for a few months, and we were relieved to see that you were already making full use of the Smart Evaporator.
On the top of your laboratory's website, there is a sentence "Water is a gift from nature and a source of life."
Recently, the SDGs include the goal of "providing safe water and toilets around the world," and I feel that we are entering an era in which we will need more "water," including increased use of tap water for washing hands and gargling to prevent infectious diseases, as well as water for drinking and daily use in times of disaster.  Your research is truly protecting the health and lives of people in the community, society, and even the world, and we are very honored to hear that Smart Evaporator is helping you in your research works.
We will continue to support your research!
In your laboratory the Smart Evaporator is used with minimal air flow to prevent sample denaturation.  We are impressed to know that you control the air flow rate manually with the Smart Evaporator's analog simple operation.  On the other hand, through this interview we had a good chance to know, as you mentioned in your request, that the Smart Evaporator would be more convenient if it had a function to stop automatically with a timer (*) or a function to stop at a certain liquid volume.  We will consider these requests internally.
Thank you very much for your valuable feedback and suggestion.  We will continue to strive to meet your expectations.  We hope you will continue to love our products for future.
*Not yet available overseas, but a model with a timer function is available in Japan.
(Interviewer: Arisa Tsubokawa)
■Interested in what Smart Evaporator is? You can learn from here!