"Essential for pretreatment of LC/MS analysis of trace water-soluble metabolites by pesticide-degrading microorganisms!"
The liquid culture medium can be concentrated and dried as it is. Eco-friendly as reducing the time and organic solvents required for liquid-liquid extraction.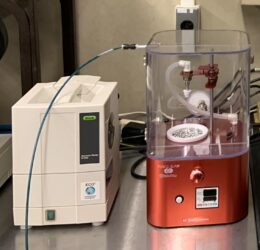 Today we asked Dr.T of an Environmental Research Center, who is developing a technology to detoxify persistent organic pollutants (POPs) that cannot be decomposed by the natural purification process in soil, using microbial material resolution (bioremediation), about his opinions and requests for our products.
Interviewee:
Dr. T, Senior Researcher at an Environmental Research Center
┃Dr. T's research content
My research theme is to understand and control the dynamics of persistent organic compounds such as pesticides in the environment, especially in soil. In particular, we are working on the development of bioremediation technologies for triazine compounds such as simazine, melamine, and POPs pesticides including hexachlorobenzene (HCB), hexachlorocyclohexane (HCHs), pentachlorophenol (PCP), dieldrin, and endosulfan, using degrading microorganisms -we have a lot of patented strains- and carbonized woody material. For the elucidation of the dynamics of POPs, it is essential to determine the chemical structure of trace amounts of degraded metabolites. Smart Evaporator is used to dry up the microbial degradation culture medium as the pretreatment for the analysis by single crystal X-ray structure analysis system or LC/MS system used in that process.
My current collaborator originally has known about Smart Evaporator, and we went to see the device together to BioChromato's exhibition booth in JASIS (November 2020) held at Makuhari Messe.  I fell in love at first sight with the device, which could easily concentrate a small amount of water from tea.

We could reduce the time spent on concentration and drying of the culture medium as well as the cost of the organic solvent. In addition, the contamination peaks derived from the culture medium components were so cleaned up that we wondered why it was possible.
Previously, we used a rotary evaporator to evaporate the culture medium while azeotroping it with acetonitrile. In that process, when the flask was heated in a water bath, there was a risk of the sample becoming wet due to the steam contamination, but as Smart Evaporator does not need water for heating, so there's no need to worry about it.
Furthermore, microbial liquid culture media tends to become more viscous at becomes more concentrated, so it was necessary to keep a close eye on it to prevent sudden boiling.
By using Smart Evaporator, the water can be evaporated without azeotrope with organic solvents, and since there is no risk of sudden boiling at normal pressure, we feel good that we can leave the liquid sample to be evaporated.
For example, it took only about 55 minutes (using the Spiral Plug made of Viton material) to concentrate and dry-solidify 10 mL of cultivation solution in a 50 mL vial.  Not only did we save the time I used to spend, but we were able to do other work in the meantime since we didn't have to worry about the sudden boiling.
In the future, we expect the improvement of the recovery rate in pretreatment work using Smart Evaporator. The recovery rate was 33% when the aqueous sample in a glass vial was dried and solidified, then dissolved again by adding 2.5 mL of acetonitrile and sonicating for 1 minute.
Since a large amount of salt from the culture medium was precipitated by the drying and solidification process, there was a concern that the salt and a small number of metabolites were adsorbed together on the glass wall.
We hope that tips on how to improve the recovery rate when re-dissolving aqueous samples using organic solvents after drying and solidifying will be shared as the know-how of Smart Evaporator users.
We are also attempting to analyze the single crystal X-ray structure of trace pesticide degradation metabolites using the crystalline sponge method. We aim to directly identify the chemical structures of trace unknown metabolites extracted from microbial culture media, without the need for exact mass analysis by mass spectrometer or structural estimation based on NMR spectra.
In the future, each of the dozens or hundreds of unknown peaks detected in the chromatogram will need to be fractionated by LC, concentrated, and dried. For example, if Smart Evaporator supplied by your company can dry and solidify samples using 12-, 24-, or 96-well glass plates, I think that the subsequent pickup of single crystals and handling of the crystal sponge method will be more efficient.
Summary
Thank you very much for taking the time for the interview, Dr. T. Even now I still remember vividly the very lively conversation we had, in front of the equipment which was evaporating a tea sample on it, at the JASIS exhibition. I felt that the activities of Dr. T, who is working on the purification of persistent organic pollutants that are harmful to human health and the environment through the development of bioremediation technology, will bring a more secure daily life for us. We also received a request to share the information on what other users are doing to improve the recovery rate in the pretreatment process of analysis using Smart Evaporator. We are reminded of that our new mission is to build a network of users in various research fields who have the know-how of Smart Evaporator. Thank you very much for your very valuable feedback. We will continue to do our best to meet your expectations.
(Interviewer: Kikuchi)
■Interested in what Smart Evaporator is? You can learn from here!