It is great being able to flexibly concentrate fractionated samples.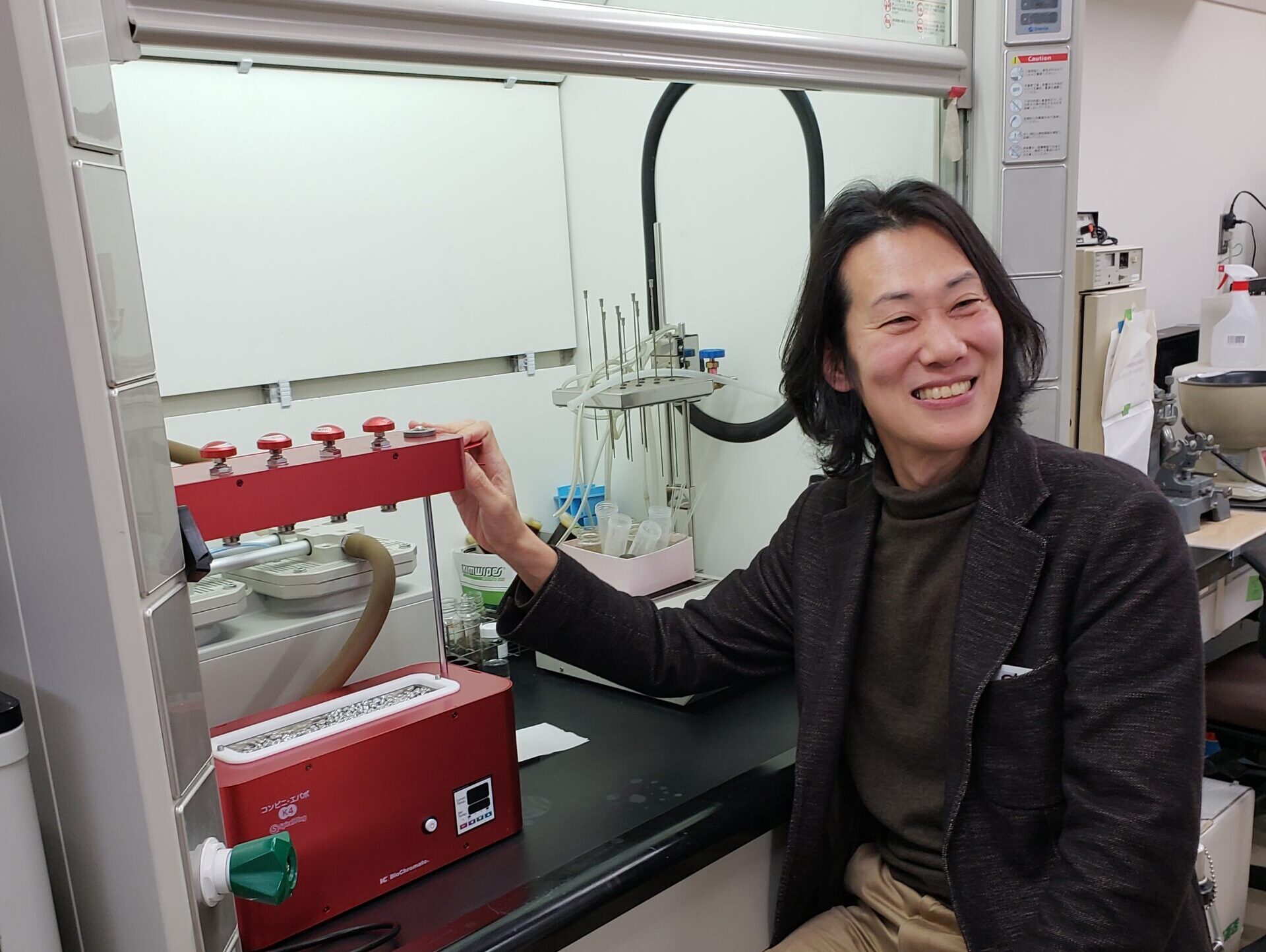 We interviewed Dr. Koyama who studies on the evaluation and analysis of functional substances in foods.
Interviewee:
Tomoyuki Koyama, Ph.D., Associate Professor, Food Chemistry and Functional Nutrition, Graduate School / Tokyo University of Marine Science and Technology
Thank you so much for your time today – to start with, could you introduce your field and the purpose of concentration in your research, please?
I evaluate and analyze functional components in foods. The Smart Evaporator K4 (4-sample model) is used when concentrating extracts, samples for analysis, or samples for activity evaluation tests.

When I thought I'd purchase one more evaporator, I already had two rotary evaporators, a centrifugal evaporator and a nitrogen evaporator. I searched on the web with the keyword "evaporator", and the Smart Evaporator hit. I remember the unique principle and colorful images were quite impressive.
The Smart Evaporator C1 is quite eye-catching with a lineup of 4 bright colors, isn't it – whereas physical and chemical equipment in general is in inorganic color.  Would you describe how you are using the Smart Evaporator – for example, in what kind of experiments, and what quantity do you normally concentrate?
I'm mainly concentrating each fraction that are obtained from preparative chromatography. The quantity of the samples collected varies from as little as 2~3ml to about 200ml depending on the cases. When using the Smart Evaporator, I often use 30ml, 50ml or 100ml vials. I'm also planning to consider the use of 2ml GC vials in due course.
After introducing the Smart Evaporator, have you noticed any increased efficiency or any other benefits?
Most of all, no need of setting up is the great benefit. The Smart Evaporator can be started just by switching (it & pump) on, can accommodate 4 samples at the same time, and it also greatly decreases the time for sample transfer (because the Smart Evaporator has flexibility with the containers to be used). I cannot tell clearly if the concentration time itself is shortened, but my process is surely free from stress now.
With the rotary evaporator, you need to gather the sample to a flask, and the number of containers you can concentrate at one time is limited. With centrifugal evaporator, you cannot use vials and the usable tube size is limited. For freeze dry you need to freeze the sample in advance, and it takes even more process for transference if the samples are in vials. Those used to be the issues.
Yes, definitely.  When we need to repeatedly execute preparative chromatography, we can now concentrate the fraction already taken while waiting for the next. In the case that chromatographic patterns appear to be slightly different to each other, or that different peaks are noted and we decide to collect particular fractions, we can easily dry individual fractions and that is really convenient.
We well understand that the Smart Evaporator does a good job here. On the contrary, in your experience using the device are there any request you have, or any improvements that you would like to see?
Evaporation speed of various solvent is already mentioned in the catalogue, but for our laboratory, we think it would be good to have some compared data of oxidation stability between nitrogen evaporator and the Smart Evaporator. That is because: I'm thinking to let the students use the device too and when they do, depending on the component they may want to evaporate, decomposition by oxidation might become an issue with samples such as biologically active substances. For example, if the rates of decomposition are shown per temperature and/or air using typical substance like vitamin C, they'd be able to use the device with more confidence.
Thank you for your valuable opinion. We will keep working to be able to present beneficial information through our and the users' experiments. Thank you for your time – we appreciate your continued support.
Summary
Dr. Koyama who gave his time for this interview is studying on the evaluation and analysis of functional components in foods. He values the Smart Evaporator K4 as "you can realize the real easiness when you actually use it – this feeling cannot be fully described in the web-contents or catalogs". Through the interview, we were able to hear in detail how he is realizing its convenience – and that was very much informative to us. For example: the preparation (setting-up / warming) time usually taken with other types of evaporators is not necessary with the Smart Evaporator; the researchers can take more time for other processes during, before and after the evaporation; the evaporation while repeating preparative MPLC can be flexibly done with any amount from a few ml ~ around 50 ml; fractions can be added at any timing during, before or after the evaporation.In the laboratory with various evaporators and analytical instruments lined-up, it seemed the Smart Evaporator is also actively used for its merit in his study, and we felt very much thankful.
(Interviewer: Watanabe, Otake, Yokosawa)
■Interested in what Smart Evaporator is? You can learn from here!
■Product details of Smart Evaporator K4 (Open Type 4 Channel Evaporator)