Operation time gets reduced to 1/6 to evaporate 16 viscous samples!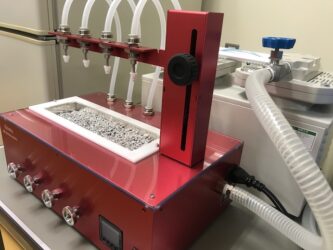 We had an interview with Ms. Kiyokawa working on development of selective extraction method for phosphate compounds in vivo.
Interviewee:
Assistant Prof. Ena Kiyokawa, Chemical Analytics, Faculty of Pharmaceutical Sciences in Fukuoka University
Our research is to develop the selective extraction method for phosphate compounds in vivo. We prepare a new extraction reagent by mixing several kinds of reagents. We then once remove the reaction solvent completely and redissolve that again to make it at the desired density.

What is the removing solvent and its quantity? Also what containers do you use?
Approximately 100 to 200 μL of a mixture of water and organic solvent is placed in a 2 mL tube then concentrated.
How long does it take to concentrate?
Normally, 4 samples are processed at a time for about 20 minutes. Because the viscosity of the reagent is high and the concentration efficiency is poor, we set the time longer so that the solvent can certainly be removed. The set temperature is as low as 40 ° C, but the concentration is still fast enough.
I am very pleased that you can quickly concentrate.  Did the operation time get shortened?
The time taken for concentration has been definitely reduced. It used to take long to evaporate the finely dispersed solvent in highly viscous reagents.  I found the evaporation speed is fast with the Smart Evaporator, and four samples can be processed at a time so the work efficiency significantly gets improved. Moreover, I feel the solvent can be more certainly evaporated than with previous method.
We were using the old model evaporator from you. It was not with the heater, so we used our own heater to evaporate. Your initial model can handle only one sample, and also the Spiral Plug position was not adjustable, so the concentration setting varies which results in different concentration efficiency between samples. It took us a whole day to evaporate a large number of samples when we have lots to examine.
How many samples did you process at maximum?
Up to 16 samples were concentrated in a day, and it took more than 30 minutes per sample. Now we can evaporate four samples in about 20 minutes and change sample tubes less often so the time required for concentration is very much reduced. As a result it certainly reduces operation time.
To evaporate the same number of samples, it used to take more than 8 hours, but now it takes only 1 hour and 20minutes. That should be a lot difference.
Yes. I'm happy with using the 4-position Smart Evaporator that greatly improves our working efficiency.
We appreciate for your kind words. Thank you for your time today.
Summary
Ms. Kiyokawa works on the development of selective extraction method for phosphate compounds in vivo, and she uses the 4-position Smart Evaporator for solvent removal after reagent preparation.  From the past she was using the old model Smart Evaporator which still includes the Spiral Plug technology, but it takes more than 8 hours to handle maximum16 samples in a day. It used to take 20 minutes to remove the mixed solvent of water and organic solvent in one sample, but now she can process four samples in the same 20 minutes. So it takes only 80 minutes to process 16 samples reducing the operation time to 1/6, and she is very much satisfied for the improved working efficiency. This is a good application that contributes to improve the working efficiency even with the high viscous samples that are generally regarded time-taking.
(Interviewer: Kikuchi)
■Interested in what Smart Evaporator is? You can learn from here!
■Product details of Smart Evaporator K4 (Open Type 4 Channel Evaporator)