Definitely fast and effective
evaporation of multiple samples!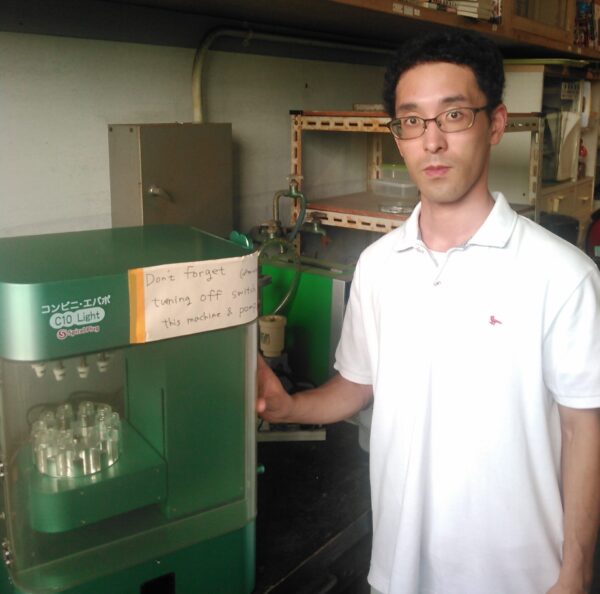 We had an interview with Mr. Kanomata who is developing efficient catalytic reaction with cellulose nanofibers.
Interviewee: PD Kyohei Kanomata, Bioresources Chemistry, Department of Agro-environmental Sciences, Faculty of Agriculture, Kyushu University.
What type of research are you in charge of?
In our laboratory, we are exploring new enzymes and biotechnology aimed for material conversion utilizing forest microorganisms functions as well as new biomaterial functional studies focused on unknown function induced by the structure of natural polysaccharides. I belong to the catalyst / composite material group and am developing efficient catalytic reaction by cellulose nanofibers. 
For what purpose do you concentrate samples in your experiment?
The Smart Evaporator is used to evaporate a solvent as for pretreatment of the extracted components analysis by the NMR (Japan Electron) or by the supercritical fluid chromatography (Waters).  
Do you need to distill off a small amount of solvent for the analysis pretreatment?  
Right. First of all, about 30 ml of reaction solvent is evaporated with a rotary evaporator, and when it becomes a small amount it is transferred to a 6 ml vial, concentrated by Smart Evaporator, then analyzed. The vial is then stored at room temperature or refrigerated environment. 
What are the experiment conditions? 
A 6 ml vial with 3 ml solvent like dichloromethane or ethyl acetate is placed in the Smart Evaporator C10, and the temperature is set at 40 ° C for evaporation. We process 3 to 8 samples at a time, and that takes about 15 minutes. We carry that for 2 to 3 times a day. 
If you need to carry the evaporation for 3 times in a day, you need to handle 24 samples at maximum which is quite a lot. Before you installed the Smart Evaporator, how did you handle such number of samples? 
When I started working in this laboratory, the Smart Evaporator was already installed but the rotary evaporator was mainly used. If you try to evaporate only one sample, it takes about the same with the rotary evaporator, but if there are multiple samples, Smart Evaporator C10 is definitely faster and convenient. Since we need to process several samples all the time, the operation time was reduced to less than half, and the evaporation time of the organic solvent was comparable to that of the rotary evaporator. 
For example, when you have 8 samples, then you have to use the rotary evaporator for 8 times, but the Smart Evaporator C10 can handle 8 samples at a time so that induces the better efficiency?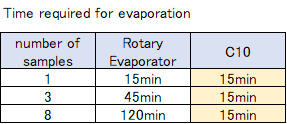 Right. I believe your system is appropriate for screening where the number of multiple samples need to be processed. Also thank that this principal does not generate bumping, so it burdens less to control the vacuum level. 
Did you have the bumping risk in the past? 
Yes. We have to keep our eyes on the rotary evaporator to avoid bumping. If a sample bumps, then we need to consider of contamination since the sample is for analysis. The Smart Evaporator let us be free from bumping risk, and we can work on other tasks so it improves our working efficiency. 
I'm appreciated to find that our system contributes to improve your work by reducing the operation time as well as by securing against bumping.  Thank you very much for your time today. 
Summary
Mr.Kanomata who is developing the efficient catalytic reaction utilizes the Smart Evaporator C10 to evaporate 3~8 samples at a time as a pretreatment prior to analysis of extracted components.  It used to take about 2 hours, but now it takes only 15minutes that improves their workability.  Also in principal there is no bumping so they are released from contamination risk which also improves their research efficiency. It is a great honor to contribute shortening the researcher's operation time, and to have their comment, "This is definitely fast and convenient solution for multiple samples". (Interviewer: Kikuchi)
■Interested in what Smart Evaporator is? You can learn from here!
■Product details of Smart Evaporator C10 (10 channel evaporator)