No need to keep my eyes on evaporator, I can dry up water with adding slight heat, and this takes me only 20 minutes.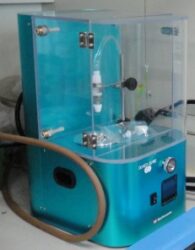 We visited Mr.K's lab for the interview, and he is working on the polymer science at one of the public institutions.
(interviewed with Mr.K: polymer science at the public institution.)


< (Smart Evaporator C1 in the fume hood. Color: Sky)
Thank you very much for your time today.
We are pleased to see this at your lab.
This is a revolutionary idea, and I've been amazed with how convenient this is.
I'm happy to have such compliments from you. Would you kindly tell us more about your research?
Yes. I'm working on the polymer synthesis as well as analysis under the certain environment that differs from the ordinary environment.
What specifically is the special environment?
I can't tell you in details, but I can briefly say that we are investigating the differentiation of the chemical reactions between under the atmosphere and not under the atmosphere. We follow the operation methods like those generally found in the chemical reactions, but we carry out the reactions inside the instrument that creates the special environment for reaction.
So you make the research together with the instrument creating a certain environment.
That's right. It's the fundamental research but we still come across the new outputs under the different environments, so I've been delightful to discover something new.
We mainly use that for drying up samples. It's useful for evaporating 2ml to 3ml of water from the sample tubes sized 20ml or 30ml.
It's our pleasure to be helpful for evaporating water. How did you cope with that before you purchased C1?
I used to use hotplate or oven, but we had to keep our eyes on samples to avoid overheated. The samples start to make side reactions when they reach to 70 Celsius, so we had to be very careful to control temperatures.
No. The 2 or 3ml of water sample is led to almost complete dry when set to 40 Celsius, so we can surely evaporate without taking much time and adding heat.
How many samples do you have to handle, and how often?
The number of samples we daily treat varies from one to 10 at maximum. Basically we store samples in sample tubes, and dry up for investigating polymers contained in samples. The most process can be accommodated with sample tubes, so it's not too hard to have a large number of samples to treat.
So can you speed up the operation if the tubes are standardized to sample tubes?
Yes, the sample tubes are handy for weight measurement as well as for the liquid chromatography after drying up, so the Smart Evaporator that allows evaporation with the preferred containers has been hugely advantageous for our ease.
One distributor brought us the brochure, and I straightaway asked for the demo.
Thank you very much. Did that bring you such an impact? Which features did you have particular interests in the beginning?
I especially like the features that we can use the preferred containers, and also the device is bumping free. My major was polymer synthesis when I was a PhD student, and I had experience with rotary evaporator which readily bumps small samples like 2ml or 3ml. I wish I had the Smart Evaporator at that time.
Thank you very much. Did that bring you such an impact? Which features did you have particular interests in the beginning?
I fully understand. The flexibility for selecting compatible containers and also the selection of colors must be unique and attractive. I'm happy to have such device that looks like a portable audio player at my lab.
It's the first time to have such feedback. Do you think our device could be an evaporator for the next generation?
Yes, this brings me such an impact. I'm satisfied with this easy operation allowing us to just leave once the valve control is fixed, and also with taking far less time for drying samples. I'm sorry to not able to share the research information in details, but I surely enjoy using the Smart Evaporator.
We are very pleased to know you are very satisfied with its functions and features. Thank you very much for your time arranged for us.
Summary
I visited the Mr.K's lab for this interview, and saw the Smart Evaporator and his device to make a certain environment are lined up neatly. Before he got the Smart Evaporator, he had to spend much time with his eyes kept on hotplate for not overheating samples. But now he is able to leave the evaporator with adding slight heat, and still able to complete 2ml or 3ml water evaporation in less than 20 minutes. Also, he now has no risk of bumping and also is able to accommodate one type of sample tube for the whole process so he's praised of the great improvement of operation reliability. Now he has been feeling great to discover new outputs under the certain environment with much improved research conditions. We'll be pleased if you are also keen to try our Smart Evaporator.
(Interviewer: Tsuyoshi Kikuchi)
■Interested in what Smart Evaporator is? You can learn from here!
■Product details of Smart Evaporator C1 (Single channel evaporator)