Conveni Prep M2 is very useful for concentration targeting bioactive ingredients derived from natural products.
This time, we interviewed Mr. T, who is using the Conveni Prep M2 in the process of developing raw materials for their cosmetics.
(Interviewee: Cosmetics manufacturer, Basic Research Division, Mr. T)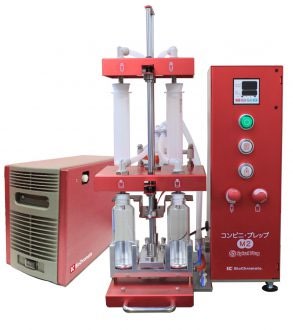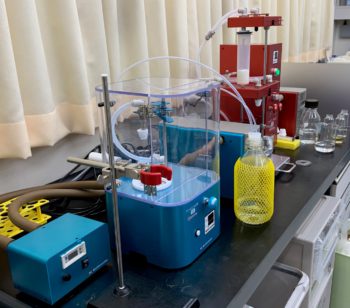 It has been about half a year since the Conveni Prep M2 was introduced in your laboratory.
We would appreciate it if you could share the information such as the background of the introduction of this system and the usability.
At JASIS2018, I stopped by your company's exhibition booth and started studying the Conveni Prep M2 system. At that time, in the development of raw materials for cosmetics, the substances ethanol-extracted from raw materials derived from herbs and plants were concentrated to detect and confirm physiologically active substances. I wanted to incorporate the fractionation work using solid-phase extraction, and I was also considering shortening the concentration time of the extracted sample. Then I started to be interested in your Conveni Prep M2.
You visited our lab when considering the introduction of the equipment. What was your impression when you used the demo machine?
At the time of the demonstration, I brought a sample extracted from herbs and seaweed extracted with 50% ethanol. I was impressed that the fractionation was quick and the concentration and drying could be done easily. I thought that the Conveni Prep M2 could apply the work process that I had wanted to establish in our work place.
As expected, it led to more efficient work. Actually, our department didn't have HPLC before, and when measurement was necessary, I had no choice but to ask the quality control department or outsource it. Even if the HPLC was introduced in our lab, we didn't have a solid-phase extraction method, it often took a day to complete the purification process. However, now our department has HPLC, so we can work in our own department. Pretreatment work can be completed in half a day at the shortest, and 2 or 3 samples can be processed in one day. Smart Evaporator C1 purchased together with Conveni Prep M2 is also used when concentrating as it is with an Eppendorf tube, which is very useful for concentrating multiple fractions and cells.
You use the aromatic synthetic adsorbent "DIAIONTM HP20 / Mitsubishi Chemical Corporation" that supports a wide range of molecular weights when purifying natural extracts. How is the compatibility with compounds?
It is compatible with the work of extracting from natural products, and we think it is an adsorbent that is useful when recovering polyphenols from compounds. In the future, we would like to remove sugars that cannot be adsorbed by the adsorbents currently used. We think that they can be effectively used for scale-up studies and method development.
*We deal the adsorbent DIAIONTM HP20 manufactured by Mitsubishi Chemical Corporation. 
For the details on their absorbent, please click here.