We received The Ministry of Education Award 2018 for Science and Technology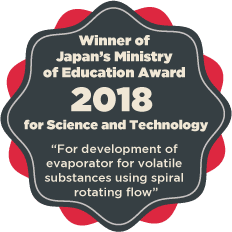 After we received the 42nd Invention Award in 2016, the Japan Society for the Advancement of Inventions recommended we apply for this award. They give this award to the people who develop superior technology. And who contribute to the development of the regional economy in small and medium enterprises and local industries.
We could have not achieved this without your support, and we are thankful for it.
Award outline
"Science and Technology Award (Technology division)
Name of Achievement: "Development of evaporator for volatile substances using spiral rotating flow"
Winners
(head) Kazumasa Kinoshita, Representative Director of BioChromato, Inc.
Takashi Oonuki, Research Promotion Group, Group Director in Research Promotion Dept of Daiichi Sankyo RD Novare CO., LTD
Mutsuo Nakajima Former Senior Researcher of Sankyo Co., Ltd.
We will continue to devote ourselves to develop products based on customer's voices. We kindly ask for your continued cooperation.
The detailed information is available here* on the website of Ministry of Education.
*We apologize as it is available in Japanese only.