ionRocket
Temperature Gradient System for DART®-MS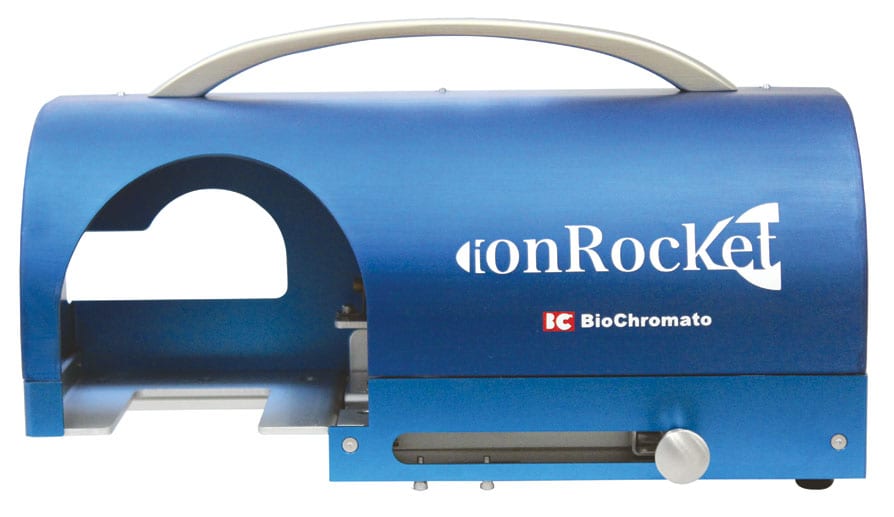 The ionRocket is actually a very important addition to the DART®-MS. It provides quantitative analysis and is remarkably sensitive!"
Analytical Chemistry & Materials Development Group at NASA JPL, Pasadena, CA

Food Safety

Drug Development

Polymer Chemistry

Forensics
Connect to DART®-MS and Visualize Hidden Compounds
Temperature Gradient System Visualizes Compounds in Real Time
Eliminates Sample Preparation Steps
Great for Polymer Analysis Typically Using Gel Permeable Chromatography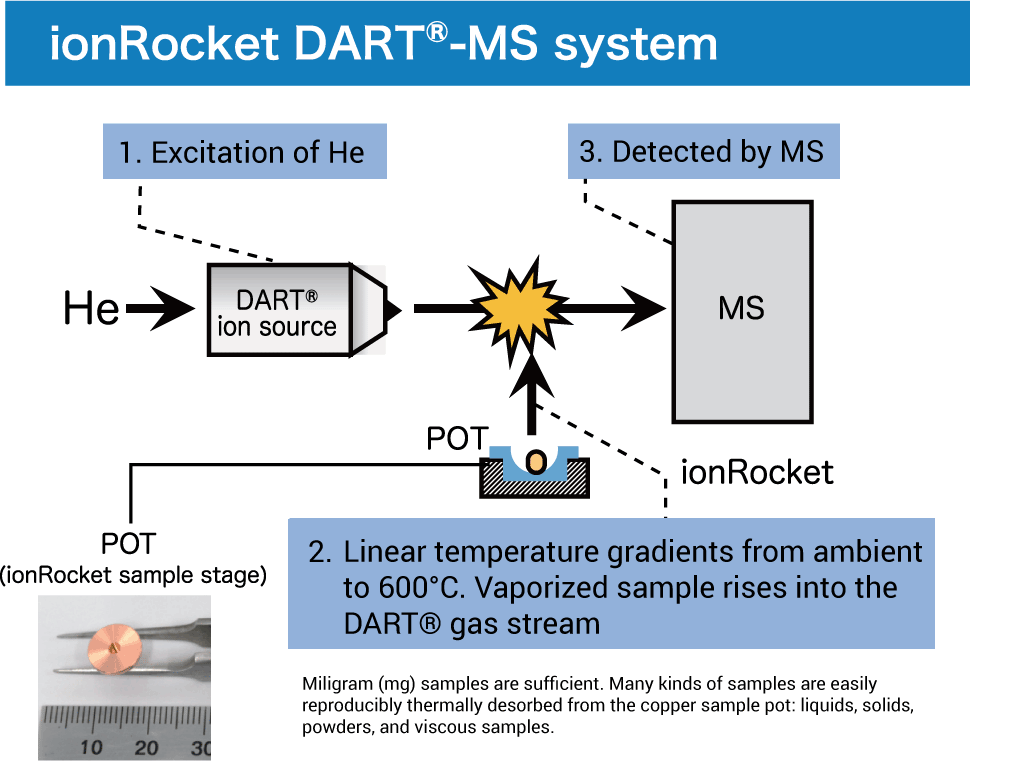 ionRocket visualizes hidden compounds in your samples. ionRocket generates a temperature gradient from ambient up to as high as 600ºC over several minutes. This allows compounds in your samples to be sublimated, vaporized, or pyrolized according to their volatility, and then introduced into the DART® gas stream.
Data obtained from ionRocket yields another axis of data (time/temperature) beyond that obtained from normal DART®-MS (Direct Analysis in Real Time-Mass Spectrometry) analysis. Species desorb in order of their volatility along the temperature gradient, and thus are separated in time. The data thus resembles that of an LC-MS or GC-MS chromatogram, consisting of temperature/time, m/z, and intensity. This can separate rare from abundant species, making them easier to detect.
US Patent 8,927,926
Publications
2020
Yamaguchi, M. (2020). Thermal desorption and pyrolysis direct analysis in real time mass spectrometry of Nafion membrane. Journal of Applied Polymer Science
2019
Ball, P. (2019). Development of a DART-Mass Spectral Database for 3D-Printed Firearm Polymers, and Airborne Mercury at Three Lakes in North Mississippi
Bridge, C. & Marić, M. (2019). Temperature-Dependent DART-MS Analysis of Sexual Lubricants to Increase Accurate Associations. J. Am. Soc. Mass Spectrom.
Barnett, I., Bailey, F. C., & Zhang, M. (2019). Detection and Classification of Ignitable Liquid Residues in the Presence of Matrix Interferences by Using Direct Analysis in Real Time Mass Spectrometry. Journal of Forensic Sciences.
2018
Cody, R. B., & Fouquet, T. (2018). "Reverse Kendrick Mass Defect Analysis": Rotating Mass Defect Graphs to Determine Oligomer Compositions for Homopolymers. Analytical chemistry, 90(21), 12854-12860.
Price, E. R., McClure, P. J., Jacobs, R. L., & Espinoza, E. O. Identification of rhinoceros keratin using direct analysis in real time (DART) time‐of‐flight mass spectrometry (TOFMS) and multivariate statistical analysis. Rapid Communications in Mass Spectrometry.
Abe, H., Takei, C., Sakakura, M., Yajima, D., & Iwase, H. (2018). Comprehensive Drug Screening by Thermal Desorption and Pyrolysis Combined with Direct Analysis in Real Time-Mass Spectrometry (TDP/DART-MS). Analysis of Drugs of Abuse (pp. 115-124). Humana Press, New York, NY.
M Maric, J Marano, RB Cody, C Bridge (2018). DART-MS: A New Analytical Technique for Forensic Paint Analysis. Analytical chemistry
Specifications
Model Number
MSIR03
Main Body Outer Dimension / Weight
315 mm (W) x 120 mm (D) x 175 mm (H) / 3.2 kg
Heater Control Box Dimension / Weight
321 mm (W) x 220 mm (D) x 147 mm (H) / 4.1 kg
Heating Control Temperature
Room temperature – 600°C
Main Power
100 VAC/240 V, 50 Hz/60 Hz
Operating Temperature Environment
10°C to 40°C (No condensation)
Power Consumption
During operation: 100 VAC 320 W
As stand-by: 100 VAC 32 W
DART® is a registered trademark of JEOL